Planning & Land Use Office
Chesapeake Bay Preservation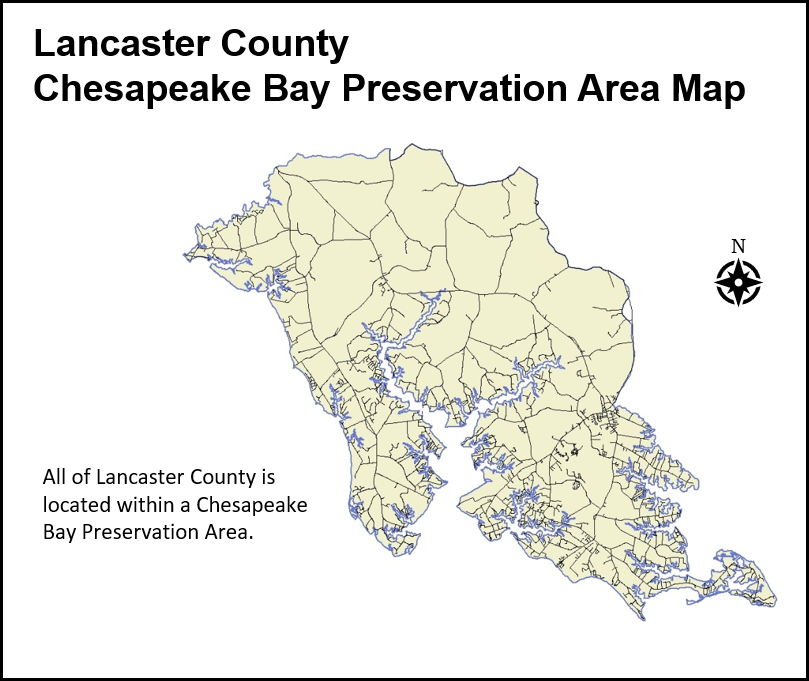 The Chesapeake Bay and its tributaries are one of the most important and productive estuarine systems in the world, providing economic and social benefits to the citizens of Lancaster County and the Commonwealth of Virginia. The health of the bay is vital to maintaining Lancaster County's economy and the welfare of its citizens.
The Chesapeake Bay waters have been degraded significantly by many sources of pollution, including non-point source pollution from land uses and development. Existing high-quality waters are worthy of protection from degradation to guard against further pollution. Certain lands that are proximate to shorelines have intrinsic water quality value due to the ecological and biological processes they perform. Other lands have severe development constraints from flooding, erosion, and soil limitations. With proper management, they offer significant ecological benefits by providing water quality maintenance and pollution control, as well as flood and shoreline erosion control. These lands together, designated by the board of supervisors as Chesapeake Bay Preservation Areas (CBPAs), need to be protected from destruction and damage in order to protect the quality of water in the bay and consequently the quality of life in Lancaster County and the Commonwealth of Virginia.
It is the intent and purpose of this article to support the goals and objective of the Chesapeake Bay Preservation Act and the Lancaster County comprehensive plan by protecting and improving the water quality of the Chesapeake Bay, its tributaries, buffer areas and other sensitive environmental lands by minimizing the potential adverse effects of human activity upon these areas.
Septic System Pump-out/Inspection Program
The Lancaster County Board of Supervisors has required implementation of a Septic System Pump-out/Inspection Program, in accordance with the County's Chesapeake Bay Preservation Ordinance and the state's Chesapeake Bay Preservation Area Designation and Management Regulations (9VAC25-830). The program requires all private septic systems to be pumped out at least once every 5 years.
Since all land within Lancaster County is designated as Chesapeake Bay Preservation Area, all properties are required to comply.
Letters to property owners with private septic systems are mailed, along with a verification compliance form to be returned with confirmation of pump-out. Questions regarding this program may be directed to the Planning and Land Use Office at (804) 462-7581 or e-mail Olivia Hall.
Financial assistance may be available to low- and moderate-income (LMI) households for pump-outs through the Northern Neck Planning District Commission (NNPDC). Click here to learn more.
Locating & Permitting Your Septic System
Contact the Lancaster County Health Department, at 804-462-9919 for a drawing showing the location of your septic system or for permitting the installation of a new septic systems or repairs.
Tree Cutting
Any person planning to cut or direct the cutting of trees within 100 feet of tidal waters or wetlands must contact the Lancaster County Planning and Land Use Office, (804) 462-5220, prior to doing so.
Contact Information
Director of Planning & Land Use
Olivia Hall
Phone: (804) 462-5220
Fax: (804) 462-0031
Office Location & Address
County Administration Building, Main Floor
8311 Mary Ball Rd
Lancaster, VA 22503
Hours: 9:00 AM to 5:00 PM
Downloads
Third party software or a browser plug-in may be required to view the files listed below: